Since the day Universal Smart Data Center (USDC) Technology, the competent and prominent company in technology construction for data center services in Vietnam, officially became Certified Services Partner and formed the strategic partnership with Huawei, we relentlessly devote our resources to cultivating in bringing all the best optimized products and services of Huawei to our customer.
As a significant result, on 22 March 2022 — Universal Smart Data Center (USDC) Technology is delighted to announce our successful achievement as a Huawei Certified Service Partner in Data Center Facility (Digital Power) – Leading power digitalization for a smart and sustainable world.
We are One of the First Companies in Vietnam awarded by Huawei Digital Power
Huawei Digital Power is a leading global provider of digital power products and solutions. It has a good reputation of employing the use of a disaster-hardened data center facility typically offers the most secure form of backup since all data resides offsite and is therefore protected from theft or physical damage.
In September 2017, Huawei was one of the first companies received Uptime Institute TIER-Ready awards. The TIER-Ready awards are intended to enable manufacturers of pre-fabricated and modular (PFM) data center solutions to confirm the resilient design of their pre-built solutions and assure customers that these modular solutions will perform at the highest levels possible once installed. The awards are global Huawei Technologies models ranging from 150-kW to 600-kW models of outdoor prefabricated modular data center.
World's first Uptime TIER-IV Ready certification, the highest availability level of the product, ensuring high reliability of the data center.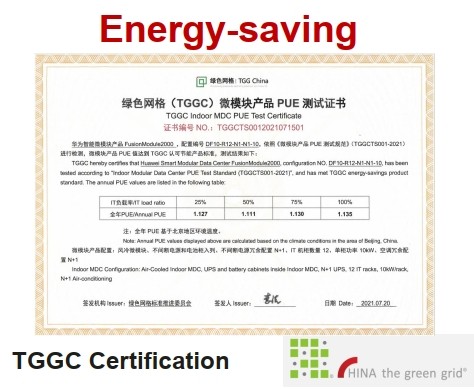 World's first Modular Data Center product PUE Certification, the annual average PUE is as low as 1.111.
USDC Technology, with a wide range of multi-domain solutions, especially in Data Center Modular and Data Center Facilities, combines all of our best practices in data center facilitation that we have provided with the cutting-edge technology from the partnership with Huawei to help the customers have the most satisfied experience when using our services. Became one of the first company in Vietnam getting certified by Huawei for Data Center Facility, we are confident in providing consulting services on presales and aftersales for enterprises that have the plan to build a data center from the world-best technology.
Trusted Partnership Offering a Wide Portfolio
The partnership between USDC Technology and Huawei enables us to offer a wide portfolio of multi-domain solutions (Cloud – Data Center Facilities – Enterprise IT – Digital Power – Data Communication – Connectivity…). Together, USDC Technology and Huawei occupy a challenger position in the market with an excellent level of customer engagement.
About Huawei
Huawei is an independent, privately-held company that provides Information and Communications Technology (ICT). It has nearly 194,000 employees, and operates in more than 170 countries and regions, serving more than three billion people around the world. With integrated solutions across four key domains — telecom networks, Information Technology (IT), smart devices, and cloud services — Huawei is committed to bringing digital to every person, home, and organization for a fully connected, intelligent world.
About USDC Technology
Universal Smart Data Center Technology was established by people with a broad vision of Information and Communication Technology. They are a professional and leading company in technology construction for Smart Data Center services in Vietnam and the region. Its commitment to take total ownership of projects has resulted in an enviable client portfolio, featuring some of the most renowned brands. Its mission to deliver society the most optimal products and services by applying the latest technologies.
USDC Technology Data Center
Launched on 11/2020 – USDC Technology Data Center was built on class Tier III. Located on Sai Gon Hitech Park, District 9, Ho Chi Minh City, Vietnam (so called Vietnam's Silicon Valley). The data center is available connection with all large networks, locate in strategic site to cover the East of Ho Chi Minh city. Our world-class data centers provide full-scale services. At USDC Technology, nothing is of greater importance to us than keeping your applications online and your data secure.
News Contact:
Universal Smart Data Center Technology
Phone: (+84) 28 73080708
Email: info@usdc.vn