Southeast Asia is one of the fastest-growing markets for data centers in the world. According to a report by Cushman & Wakefield, the overall Asia Pacific co-location data center market size will be worth US$28 billion in 2024, overtaking regions such as North America to become the largest worldwide.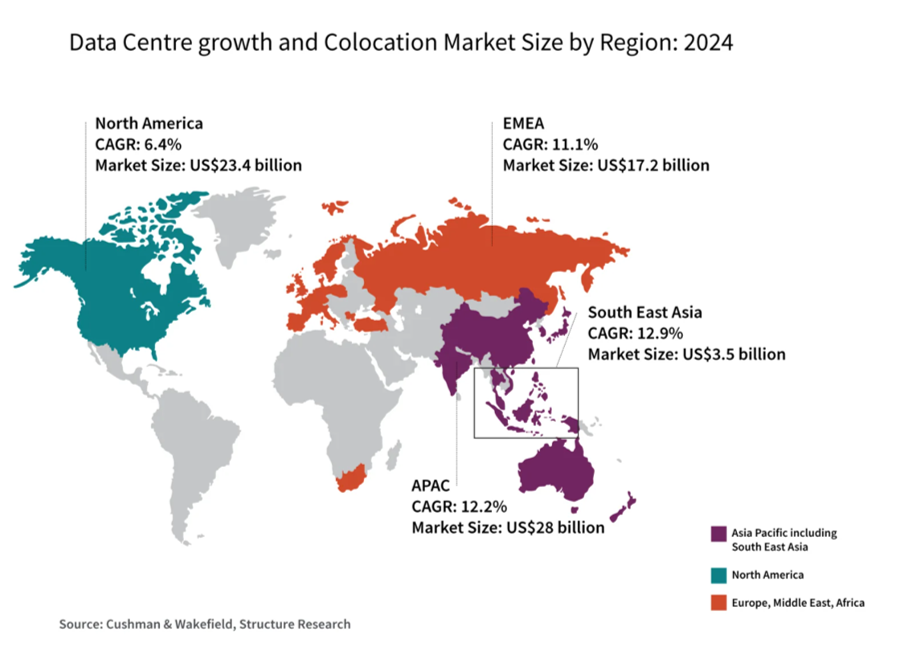 Southeast Asia is a key driver, accounting for an estimated 13% of the region's total market size in value terms. The region is home to many fast-moving dynamic cities undergoing rapid transformation. Its economies are heavily characterized by social media, TV and video content streaming, e-commerce and banking, which all require robust IT infrastructure and data networks to support its growth.
Data centers are at the heart of this growth, and this region represents a key market for local and multinational data center providers and tech giants to seize opportunities to feed the growing appetite for all things digital.
As Covid-19 has emphasized, data centers are today the silent pillars of our modern society. They sit at the heart of digital transformation and are essential for business continuity and the economy.
Sustainability's critical role
The survey found that sustainability is already a fairly important factor when doing business with data centers, and will play a critical role in driving the industry forward.
"Energy efficiency and sustainability" were considered "most important" or "somewhat important" by 66% of respondents when choosing a third-party data center provider. This proportion is still lower than other factors such as "Reliability and Security", "Pricing", "Scalability" and "Network Connectivity" (considered to be "most important" or "somewhat important" by 93%, 88%, 78% and 71% respectively), but nevertheless reveals that it is a major consideration.
Furthermore, 89%of respondents shared that sustainability will be "a factor" or "an important consideration", when choosing third-party data center providers in the next five years.
The use of renewable is being driven by tech giants like Microsoft, Google, Amazon and Facebook, who have set ambitious targets to lower their carbon emissions in data centers to meet the UN Sustainable Development Goals.
With digitization pressures and an ever-increasing reliance on stable digital infrastructures here to stay, it is important that we act now to make sure we grow sustainably for future generations to comfortably enjoy the fruits of our digital transformation labor.
Read more related topics here: https://usdc.vn/blog/