The most advanced form of storage available today, providing unlimited access and more cost-effective options, is being strongly developed by major vendors, the object storage model. So, what is object storage? Let's find out what this cloud storage model has compared to traditional data storage through the following article.
The formation of object storage
Initially, data storage usually only used the form of local storage, or stored directly on the computer using it. Then the need to share data among computers becomes more then the NFS model (Network File Share – data is shared between computers on the same network) …
However, these archival archives cannot meet the growing demands of storing very large amounts of data in the billions, and are particularly scalable. Therefore, Object Storage was born as an indispensable to meet the needs of more and more diverse data.
Object storage – what is it?
Object storage or object-oriented storage, as the name implies, is a form of data storage in separate units (objects). Objects are stored inside a single repository, and will not be aggregated into files within a directory located within other directories.
Object-oriented storage uses logical frames to contain Objects in a peer-to-peer fashion. Each object will include its own data, meta data and identifier id.
To better understand object storage, we can learn more about two traditional types of storage: file storage and block storage.
File storage
File storage stores data as a single piece of information inside a folder to help organize that data with other data. This method, also known as hierarchical storage or a directory tree, simulates the way we still store paper files. When data access is needed, the computer system only needs to specify the path to search for that data.
Block storage
Block storage divides a file into separate data blocks and then stores these blocks as separate data pieces. The storage system can do this without having a file directory structure because each data block has a unique address. This allows the storage system to disperse smaller blocks of data anywhere in the system that it finds most effective. The system software stores the necessary blocks together to assemble into a file whenever the file is accessed.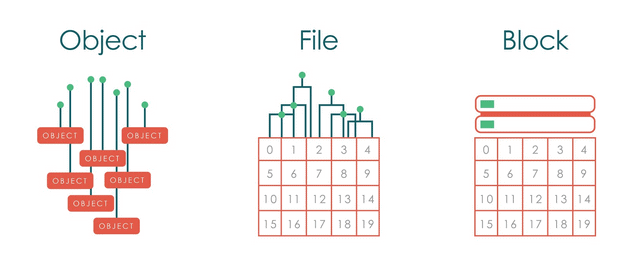 Object storage stores the data blocks that together form a file (real data like images or movies, data fields like dates, magnitude, format) and adds all associated metadata. link to that file.
But object storage also adds extended metadata to the file and eliminates the hierarchical structure used in file storage, puts everything into a flat space, or data reservoir. Data in object storage is usually accessed via Internet protocols (http) by browser or directly via APIs like REST (representational state transfer). These software use the unique identifier assigned to the object to reference, identify, and find any particular object, such as a video or image.
Metadata is at the core of the value of object storage compared to other data storage methods. Because metadata can be defined by the user, it allows all methods to analyze all uses and functions of the data in the reservoir. That is, in addition to the ability to store and retrieve data, it also allows to make the most of data analysis and gain great benefits from that data storage source.
| | | | |
| --- | --- | --- | --- |
| Object | File | Block | Archive |
| Object Storage | NAS | SAN | "Tape" |
| Videos, photos serving streaming | All kinds of file | Attach to server | The file needs to be saved permanently |
| Read (download) data regularly | Read data regularly, install as a network drive | Run data directly on Storage | Rarely to download |
| High upload / download speed | High upload / download speed | Very High upload / download speed | High upload speed, slow download |
| Use with CDN | Many usage scenarios | Use with server (VM) | Use independently |
Differences between File, Block and Object type of data
To learn more about the Object Storage service, please contact USDC Technology for advice:
   - Hotline: (028) 7308 0708
   - Fanpage: https://www.facebook.com/usdctechnology
   - Website: https://usdc.vn
To find out more about Object Storage, read here.