Definitions
A Containerized Data Center system is a modular method of deploying data center capacity. A modular data center can be placed anywhere data capacity is needed. It consists of purpose-engineered modules and components to offer scalable data center capacity with multiple power and cooling options. Modules can be shipped to be added, integrated, or retrofitted into an existing data center or combined into a system of modules. Modular data centers typically consist of standardized components
Market Overview
The global containerized data center market was valued at USD 7.52 billion in 2019. It is expected to reach a value of USD 29.34 billion by 2025 at a CAGR of 25.49% during the forecast period (2020 – 2025). With the growing adoption of cloud and increasing data generation, the demand for data centers has spiked drastically over the past few years. Enterprise equipment provider, Cisco, projected the volume of digital traffic to triple over the next five years.
The Containerized Data Center are fabricated in a manufacturing facility and shipped to the end-user in the container. Most of the components in this type of data center are preinstalled, and offer limited flexibility, in terms of replacement and upgrading components. Evidently, with many companies looking for immediate and reliable scaling solutions, containerized data centers provide flexibility to their users. For more than 40 % of organizations, scalability was one of the top challenges in maintaining a data center. The flexibility of the containerized data centers, i. e. , adding new units as and when required, allows organizations to meet the fluctuating demands in a fast way.
Containerized data centers have found applications in many sectors, catering to different consumer needs. Disaster recovery remains one of the primary revenue-generating industries, with many organizations deploying data center containers to use computing power in areas struck with disasters. Temporary capacity elevation and high-performance computing are also significant applications for these data centers, with many users utilizing them to handle additional loads without interrupting core systems. Easy scalability and high -power efficiency are supporting the deployment of this technology.
Further, these systems' high mobility and scalability remain among the major driving factors for market growth. The increasing demand for data centers and the increasing investments in the market are expected to grow industry growth. With the demand for these data center capacity growing, multiple companies are opting for these data centers for reliable and scalable solutions to cater to their immediate needs. As these containerized data centers offer suitable features to meet the client's requirements, the demand for these systems is expected to grow in the coming years. Limited flexibility and a lack of expertise are also challenging market growth.
Amidst the COVID-19 crisis, the adoption of digital banking solutions is expected to further push the adoption of technologies, like containerization, cloud computing, microservices, APIs, and blockchain. Hence, the financial and banking industry is expected to provide several opportunities for containerized data centers' growth over the forecast period.
Additionally, the world's largest investors are focusing on the digital infrastructure market, citing extraordinary demand for capital to boost the data economy. Investor interest remains high even amid the COVID -19 pandemic. The growth of hyper-scale computing has increased investors' interest in data centers. As the demand for modern, flexible, and scalable data center grows, investment in data centers is expected to create opportunities for the adoption of containerized data centers.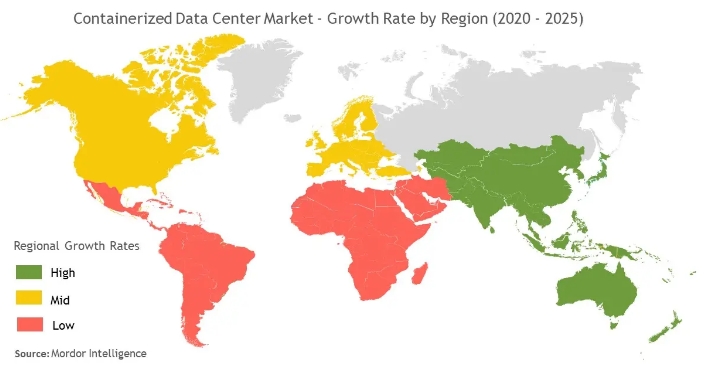 Competitive Landscape
The major players include – IBM Corporation, Hewlett Packard Enterprise, Cisco Systems Inc., Dell Inc., Rittal GmbH & Co. KG, and Huawei Technologies Co. Ltd, among others. These players are increasingly undertaking mergers and acquisitions and product launches to develop and introduce new technologies and products. As a result of this, the market concentration will be high.
The Vietnam Leader in Providing Containerized Data Center Solutions
The rapid growth of IT density and energy consumption are bringing a lot of challenges to the traditional data center. Following the growing applications of edge computing, USDC Technology is introducing a new generation of containerized datacenters with flexible power and cooling designs, quick deployment, and scalable capacity for implementation anywhere. The all-in-one design can help customers win in the Cloud era through fast deployment, flexible expansion, high efficiency & reliability with intelligent management.
The Main Advantage of "All-in-One" Containerized Data Center Solutions from USDC Tech
 1. Fast deployment: A traditional datacenter takes 18 to 24 months to build. With the fully modularized design concept, USDC Technology's containerized datacenter is flexible and scalable with only a few weeks or months for deployment to meet the rapidly growing IT needs.
2. Highly integrated: Prefabricated, pretested, and fully configured architecture with high portability for edge computing application.
3. Highly reliable: All subsystems, such as UPS, power distribution, battery, cooling, racks, and more, are well integrated.
4. Energy efficient: Variable fan speed control enables high energy savings. Hot aisle containment further improves cooling efficiency.
5. Low PUE: The PUE (Power Usage Effectiveness) level is controlled under 1.6
6. Comprehensive manageability: Our DCIM provides a sophisticated management and monitoring solution including power, energy, assets, work orders, security, capacity management, and more.
7. Tier III standards: All designs are N + 1 and meet the Tier III standards.
"All-in-One" Container Data Center solutions from USDC Technology can be pre-assembled and can be up and running in next to no time. The spectrum ranges from simple IT containers to complete all-in-one systems incorporating the entire physical IT infrastructure, from the rack to climate control, a power supply with a powerful UPS system, through to complete monitoring and, at the customer's request, an effective fire extinguisher system. The product spectrum comprises multiple graduations and output categories, allowing customers to select the most suitable solution for their requirements. Extensive standardization within the product family not only shortens the delivery time, but it also enhances product reliability and quality. The field-tested solutions are delivered complete with comprehensive documentation.
Read more related topics here: https://usdc.vn/blog/